Food trucks are a unique and fun experience at all types of events, from festivals to neighborhood gatherings, and more recently, weddings. As more couples decide to fully customize their wedding day and provide memorable experiences to their guests, it's only natural that a Nashville food truck would be a perfect catering solution.
Some venues, however, don't have a convenient space for mobile food trucks, or, they may require you to use their preferred catering options.
Want to learn about a selection of venues in Nashville that do allow food truck caterers? We'll take you through a list of venues that allow food trucks for catering services, as well as some of the best Nashville food truck catering options.
Find The Best Food Truck for Your Nashville Wedding
When it comes to the food experience at your wedding, you want your guests to enjoy gourmet food, as well as great service.
Here are seven options for the best food truck wedding catering in Nashville.
Flour and Forge
Your wedding guests will love Flour and Forge's delicious wood-fired pizza served out of their state-of-the-art mobile shipping container. Their sweet and savory pizzas with standard seven options make your event unforgettable!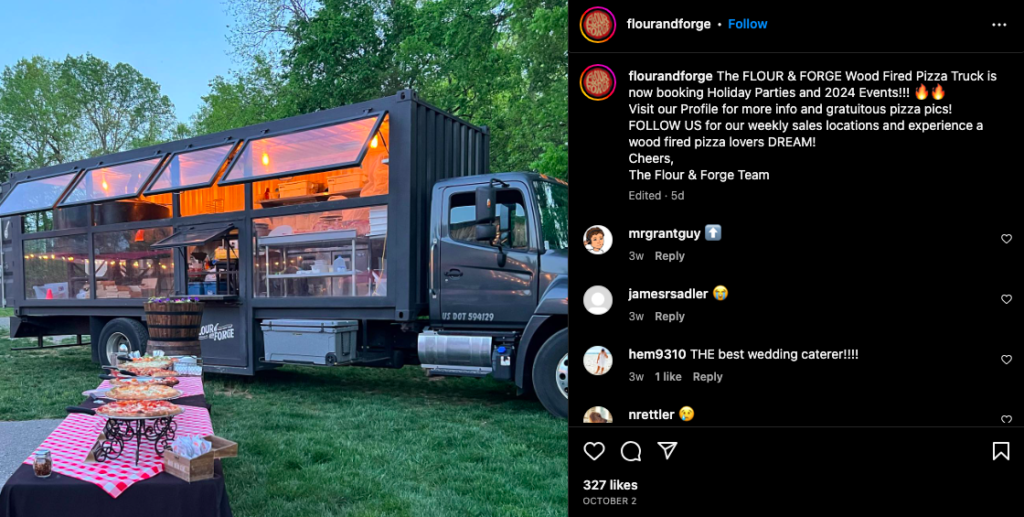 Southern Spoon
Southern Spoon Catering is owned and operated by Chef Adam Barnes. Their featured cuisine is a southern fusion, offering some of Nashville's well-known dishes with a creative spin on flavors and presentation.
Whether you prefer a brunch menu or dinner, have dietary restrictions, or want an upscale experience, Southern Spoon is a premier option for both food and service.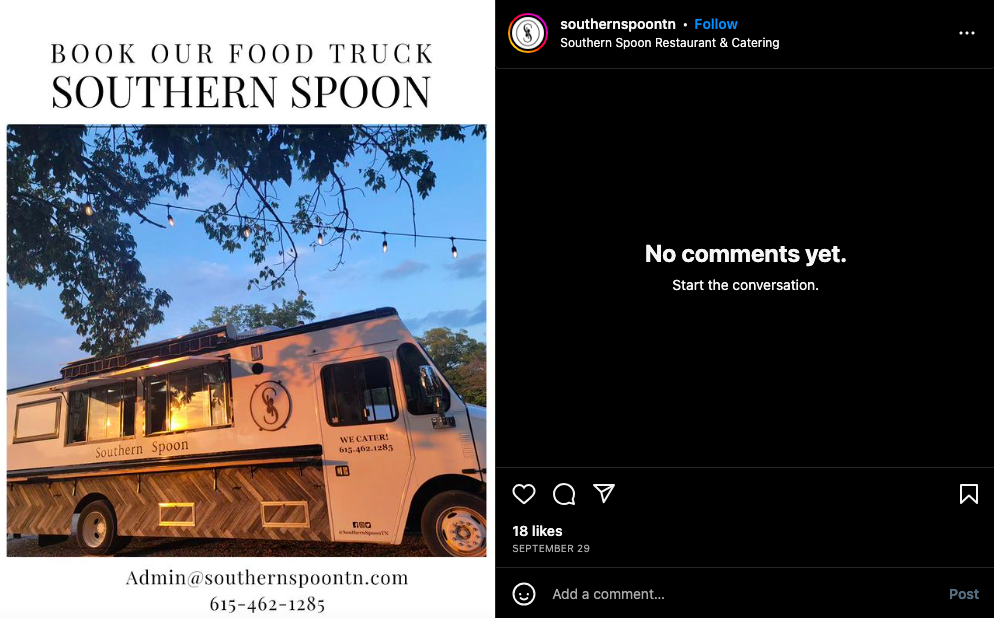 Daddy's Dogs
The go-to hot dog catering service in Nashville, Daddy's Dogs offers a delicious food truck menu for events. Their mobile kitchen can prepare a variety of hot dog flavors, plus homemade chips, slaw, and chili.
Submit a catering request form and allow Daddy's Dogs to take care of every detail for your lunch or dinner.
Shake Shack
Did you know that your favorite burger chain also has a food truck? Celebrate your big day with Shake Shack, including a Shack Burger and their iconic crinkle fries as a late night snack for a Nashville catering delight!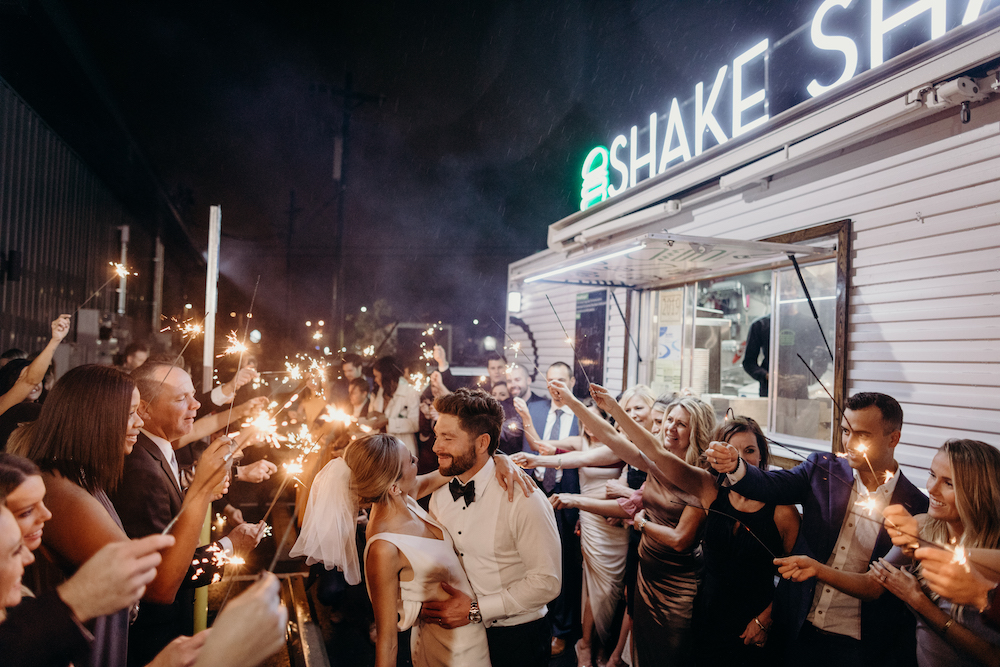 Hattie B's
Spice up your event with the perfect food truck to show off Nashville to your guests: Hattie B's. Their team is seasoned in catering events, and will take care of you every step of the way.
Browse their menu and allow your mouth to water just thinking about the spicy chicken and delicious banana pudding!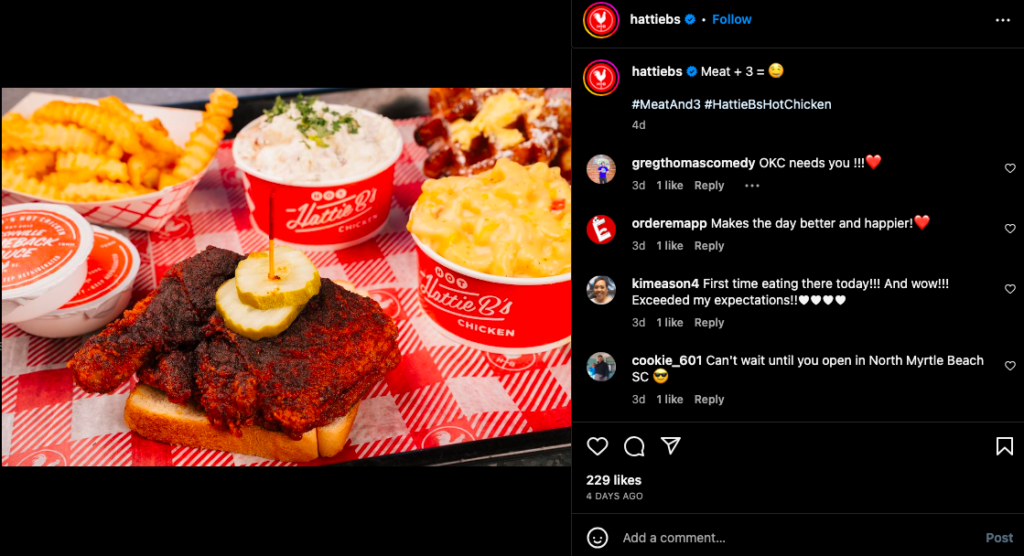 Bad Luck Burger
After experimenting with smash burger recipes during 'bad luck' in 2020, the Bad Luck Burger Club food truck (aka the Intergalactic Rolling Church of the Burg) made its debut as a Nashville food vendor in 2022.
Join the club by hiring this truly epic catering company for your wedding day, and allow your guests to enjoy scrumptious and thoughtfully crafted burgers.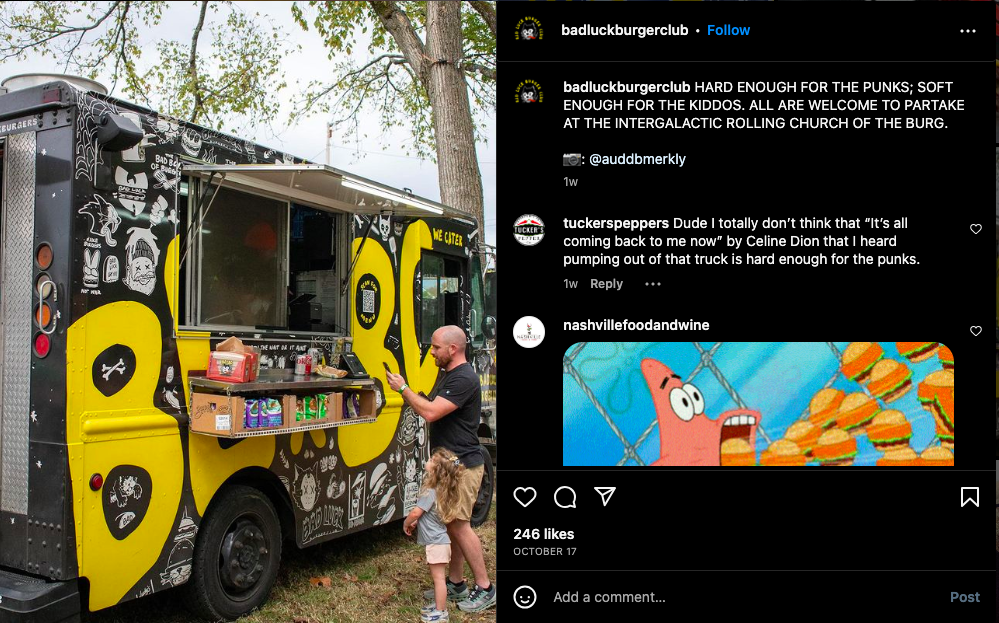 Pie Town Tacos
Who doesn't love tacos? Pie Town Tacos offers a customizable street taco menu with all the fixings, plus house-made salsas and pickled veggies. Treat your guests to delicious tacos, and allow 14TENN Beverage to create a signature margarita to pair together!
Nashville TN Wedding Venues That Allow Food Truck Catering
Since not all venues allow or have the room for you to book a food trucks, we thought we'd make it easy for you. Here is a list of venues that allows you to book food trucks in Nashville.
14TENN
14TENN is a unique blank canvas venue, perfect for couples to get creative with everything from decor down to their food. Food trucks can park on the street right in front of 14TENN, which is an exciting view for guests to see as soon as they pull up!
Concerned about logistics? Don't be! 14TENN's Planning team will take care of all the event details, so that you can sit back and and enjoy your day. Feel free to contact us with any questions.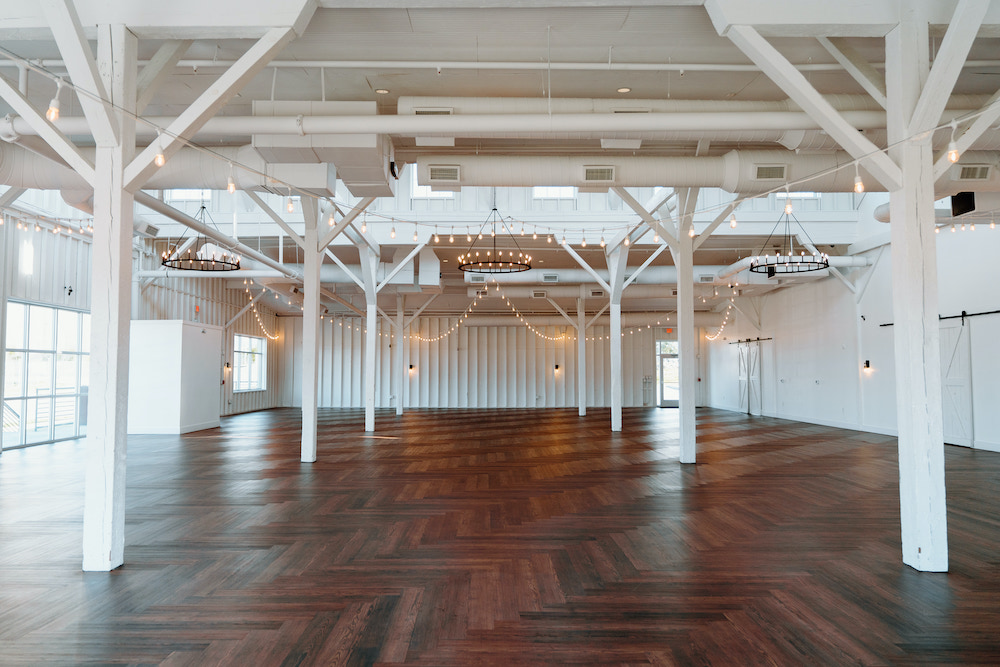 The Farm at Cedar Springs
Located in Lebanon, TN, not far from Nashville, The Farm at Cedar Springs is offers a private and secluded location with some of the best countryside views in Tennessee. Their rustic space includes two 1830s historic log cabins for wedding party prep, and a large event barn with string lighting, farm tables, antique pews and more.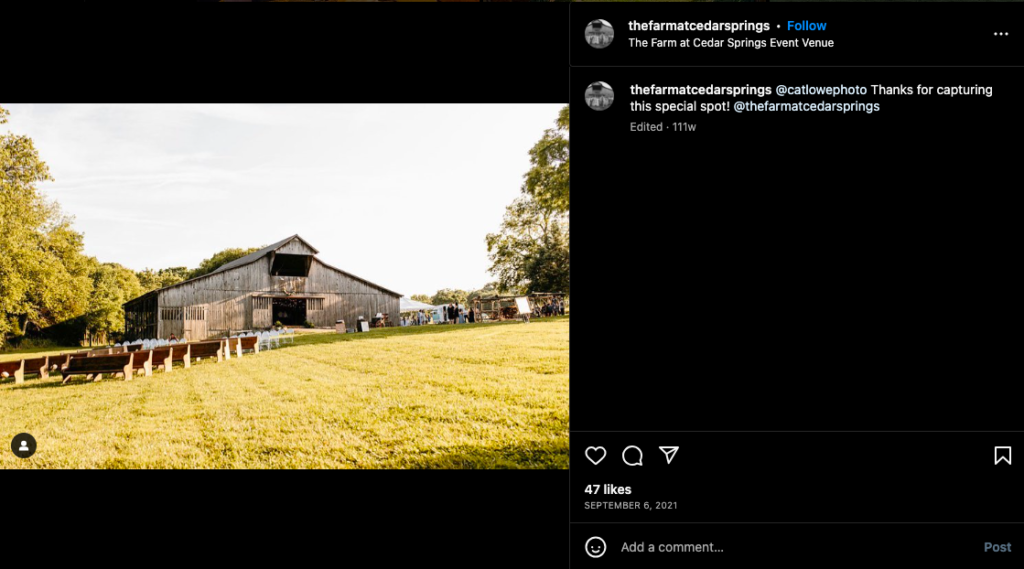 Wilburn Street Studio
This restored East Nashville event space is located in the Cleveland Park neighborhood. Formerly a goods store, it's now a venue for private events. Wilburn Street Studio features an open floor plan, beautiful patchwork on the walls, and a large enclosed courtyard for guests to mingle.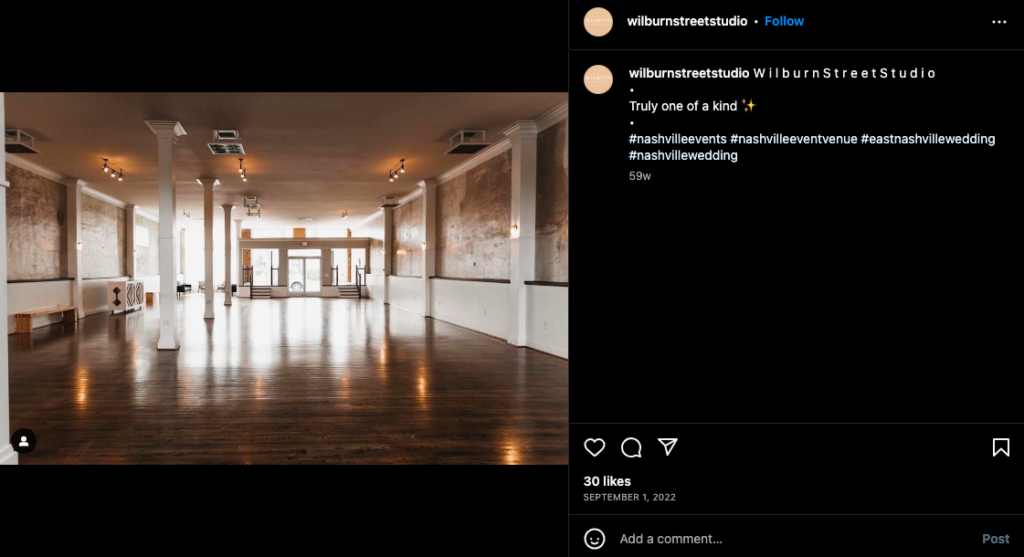 Ruby
Ruby is a repurposed church in Nashville that has been renovated for social gatherings. Offering both indoor and outdoor space and a bring-your-own catering policy, Ruby is flexible if you would like to book a food truck for your wedding day.
The Cordelle
Conveniently located in Rutledge Hill, the Cordelle is has been transformed into a vintage-modern event venue. Featuring two rooms, The Victorian and The Great Hall, the space offers hardwood floors and exposed brick walls, plus a covered patio overlooking a "secret" garden.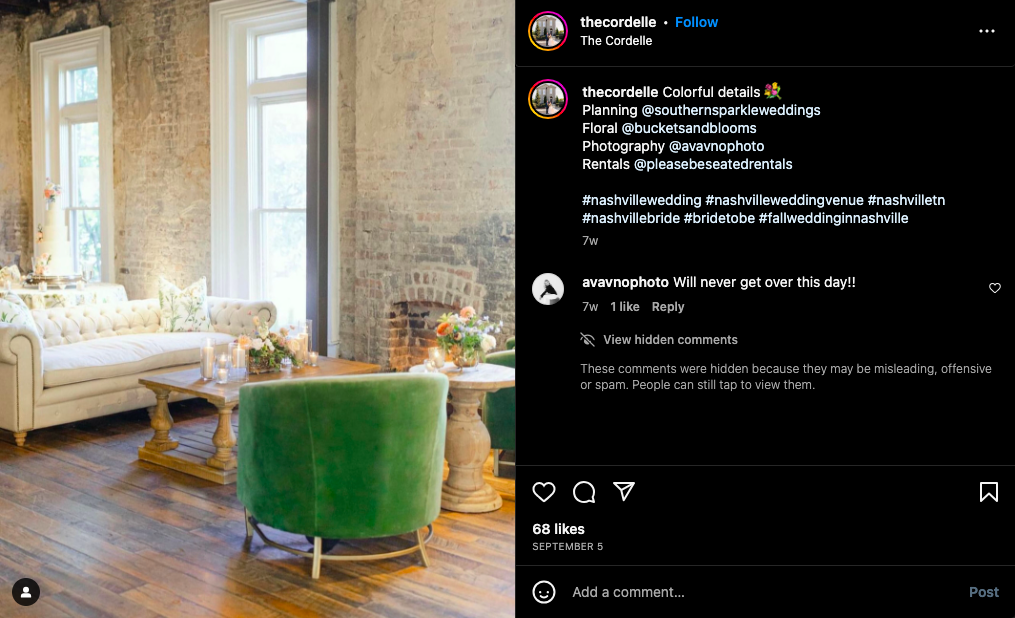 Is a Food Truck The Ultimate Catering Package for a Wedding?
14TENN clients have been hiring available food trucks for their weddings and other private events since we first opened.
While some couples prefer their main wedding catering meal to be a full-service buffet or plated meal, others love the flexibility of an on-site food truck to complement the flexibility of 14TENN's space. At a minimum, between cocktail hour and late-night snacks, our team can help you find a way to also enjoy a food truck as part of your special day.
Have questions? Let 14TENN help you find the perfect fit to cater your next event.
Book The Best Nashville Food Trucks for Your Wedding
Sold on food trucks as being the best catering option for your wedding? Contact 14TENN's dedicated team today to allow us to help you find the best food truck trailer in Nashville for your event.